So even though I don't exactly draw my anchor until January with Semester at Sea, I feel like a big part of my voyage has already started this weekend.
I have departed Manhattan (only- I still *work* here and am typing this very blog from Manhattan, but just humor me here....I feel like there's some great big symbolic story that seems appropos and syncs nicely with the fact that I'm starting a new journey....and well, this is supposed to be just an aside, so back to my point...). Right. So, for three months I have moved to Hoboken, a mere Hudson river away from the city, but worlds away from where I came, figuratively speaking. It still never ceases to delight and amaze me that my commute to work (in the city) is much shorter from NJ than it was when I actually lived in the very borough of Manhattan. 50 minutes from uptown versus 35 minutes from Hoboken. 40 of those minutes were spent on the subway before and only 10 of those minutes are spent on the Port Authority Trans Hudson (otherwise known as the PATH train) and the other 25 are spent walking now. Give me a gorgeous walk ANY day over a cramped smelly subway ride!
First of all I woke up to sunshine and birds singing happy melodies outside my window. The weather today is quite nice. I believe this is what they call Indian summer. Maybe 70 degrees and sunny. The kind of sunshine that sits a little lower in the sky than it does on a summer day and marks the tone for autumn. I walked past these lovely little buildings, each adorned with a wrought-iron trellis, supporting vines and windowbox gardens with lovely yellow marigolds growing up towards the sun. A few of the brownstones even have pumpkins on the front stoop.
It seems as though there is a cheerful Irish pub on each corner. Workers had already opened shop at 8:15 AM and they were cleaning their bars. The fresh fragrant combination of pine-sol and shellack came drifting out through the open doors. Tucked into the back of these bars were cozy fireplaces, exposed brick walls, and maybe even a jukebox. They look like the perfect place to spend hours laughing with friends and drinking pint after pint of Guiness into the wee hours of the night and then stumbling home across the cobblestone streets in three inch heels. By the way, I've mastered this art....errr...not exactly. Admittedly, I've had my fair share of twisted ankles, but I can't seem to get past believing that pretty shoes are worth the price of some scrapes and bruises.
In addition to the pubs, there appears to be a bright red fire station on each corner along with tiny little pizza shops and bakeries, decorated with ornate crown-molding and pretty little hand-painted signs outside the windows.
Also, the median age of Hoboken is 32, which happens to be MY very age! I think I'll fit in perfectly! Frank Sinatra is from this little town and the whole way to the PATH train I couldn't help but sing "Witchcraft" and "Fly Me to the Moon" and as I got closer and the Manhattan skyline came into view I remembered I've got "New York, New York" on my ipod, so of course I scrambled to find it and turned it up as loud as it would go. This created a silly grin on my face from ear-to-ear and even though I've lived in this city for 7 years now I can't get enough of the sillouette of the Empire State building set against the blue September sky. How can I not grin and sing along?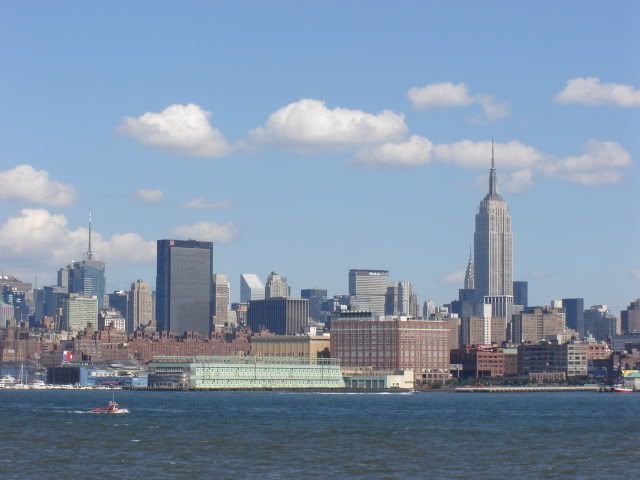 I didn't know how to appreciate the beauty of Manhattan from the outside looking in. At one point, in an act of desparation I made the mistake of moving uptown for the sake of not having to cross a bridge, nor a tunnel but *now* I know where the smart people live. The Hudson river is a short short distance from home, considering I'll be seven oceans away in a mere three and a half months from now.
But before these vagabond shoes stray, I do believe I'm going to love waking up across from the city that never sleeps.